Need to add subtitles to a video project? You can turn your audio files into subtitles automatically!
Follow these steps to export and share subtitles:
To download subtitles from your project, you simply need to export them from your project page. You can do this by hovering over the Import/Export Button, and clicking Subtitles as you see below.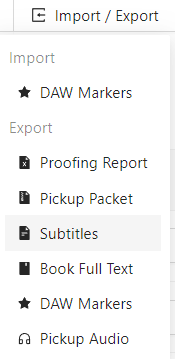 Once you select Subtitles from the list, you are presented with some options for downloading such as:
File Format (SRT or WEBVTT) and;
Timestamps (for the entire book or chapter by chapter)

Here, you'll be able to choose between SRT or WEBVTT files. Both are compatible with traditional video platforms, so go ahead and choose whichever your provider recommends.
"Timestamps relative to the start of each chapter/section" will export a separate subtitle file for each chapter in your project.
"Timestamps relative to the start of the book" will export one large subtitle file with all chapters in one.
Once you select the blue Export button, you will see a file automatically download onto your device.
This file contains your ready-to-go subtitles!
Do you still need help? Contact us at help@pozotron.com!