Pozotron makes it easy to listen back to your pickups with the "Pickup Audio" export feature.
To download and share a recording of all your marked pickups, you simply need to export it from your project page. You can do this by hovering over "Import/Export" as you see below.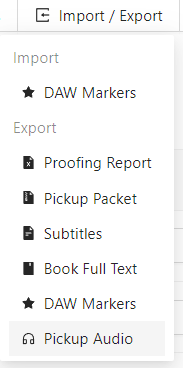 Once you select "Pickup Audio" at the bottom of the list, you will see an MP3 file automatically download to your device.
This MP3 contains every pickup you've marked in Pozotron all in one file!
Do you still need help? Contact us at help@pozotron.com!